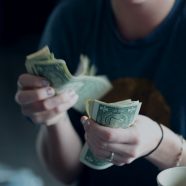 You deserve compensation for following through with your end of the bargain.
As a business, you know what it's like to try to collect unpaid invoices and fees for broken contracts. It feels as if you're putting a lot of effort in only to get ignored. If your request for payment remains unanswered, it's time to step things up and take legal action against the individual or business owing you money.
When a Debtor Has Had Plenty of Time to Pay But Ignores Your Request
In the state of California, you have the right to seek damages in small claims court. Before you contact us with your request, however, it's best to take the following steps to ensure that you've done everything you can to get the debtor to pay. If they think that you're planning to pursue legal action against them, they may make a last-ditch effort to pay you to avoid a lawsuit.
Here's what you need to do if a debtor owes you money but refuses to pay you:
Write a final letter detailing the debt. Include the current amount owed with late fees and how it continues to incur interest at a rate of 10 percent per year. Note that you'll use all reasonable means to collect the debt, including wage garnishment and liens on real property, according to California law.
If the debtor reaches out, help them find ways to pay the debt. As noted by the California Courts: The Judicial Branch of California, suggest that they offer up their tax refund to pay their debt or hold a garage sale to make money to take care of what they owe.
Pursue legal action. That's when you contact a small claims company such as ours to work on your behalf. You've already put enough time and energy into the collection process.
The best-case scenario involves the debtor paying you on their own without the need to include the courts. If they continue to ignore your requests for payment, however, you'll have taken the steps necessary to seek legal action against them.
What Ace Small Claims Service Does for Its Clients Who are Owed Money
Get the money that you're owed by having Ace Small Claims Service do the hard work for you. For a flat fee, we'll take care of all the necessary forms required to file a small claims lawsuit with the court. We'll provide proof of service and serve the defendant. We'll then provide you with all documentation in a packet for you to reference. The only thing required of you once we've finished the process is for you to appear in court on the date and time appointed to you.